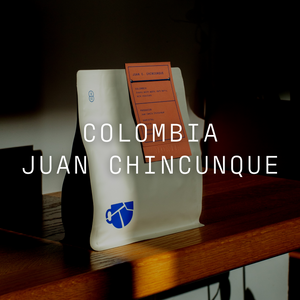 What we're tasting:
Granny Smith Apple, Dark Berry, Milk Chocolate

About the coffee:
Our first ever lot from Juan Chincunque in the Nariño region of Colombia.
Juan resides and produces specialty coffee on his farm in the El Tablón de Gómex municipality. Typically, producers in this region own very small 1-2 hectare farms that are passed down from generation to generation through inheritance.
Producers process their own coffee on site by picking, pulping, washing and drying the coffee themselves. Juan's coffee is exactly what we love from this region: clean, sweet, and clear. The granny smith apple is delicate, followed by dark berry fullness and a smooth, silky milk chocolate finish. 
A versatile coffee for espresso or filter.
Varietal: Caturra
Process: Washed
Producer: Juan Camilo Chincunque
Notes: Granny Smith Apple, Dark Berry, Milk Chocolate