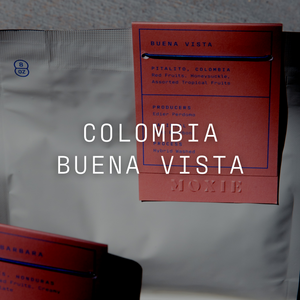 What we're tasting in Spirits:
Red Fruits, Honeysuckle, Assorted Tropical Fruits

More About This Coffee:
We first discovered coffee from Edier when his partner, Fiorella, came to Phoenix and dropped off samples. The samples looked unassuming, but they tasted phenomenal. We bought their washed Gesha last year, and this year, we've purchased this Pink Bourbon.
Edier works alongside a team who's doing incredible work in developing varieties and processing methods, and we're honored to work directly with him and his coffees.
When we cupped this coffee alongside 30 other competition coffees, this one blew us away. It's clean, bright and fruit-forward. The acidity is sparkling. There's bright red fruits, honeysuckle, and a variety of tropical fruits in the tasting notes. The layers unfold as the cup cools.
Varietal: Pink Bourbon
Process: Hybrid Washed Process
Producer: Edier Perdomo
Notes: Red Fruits, Honeysuckle, Assorted Tropical Fruits