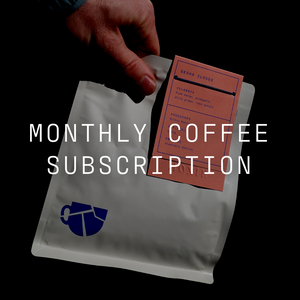 Please read all the details below before subscribing:
Free shipping to all subscribers based in the United States.


When purchasing a subscription, please do not add other items to your order (i.e. merch, other whole bean bags, or brewing equipment). Please checkout with your subscription separately from any other products.


You'll get new coffees shipped to you at the beginning of each month. You can choose between 8oz, 2lb and 5lb bags. You'll receive a new coffee every month, guaranteed.


We're constantly sourcing new exciting coffees from our partners all over the world. You'll receive a wide array of sweet, juicy coffees from numerous producers with a wide array of processing methods. Perfect for the curious coffee consumer.
We'll even throw in some stickers and pins on your first purchase!