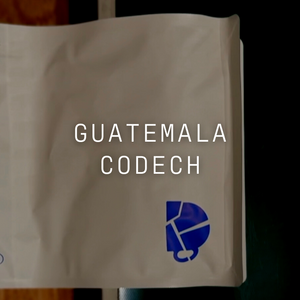 What we're tasting:
60% chocolate, nougat, soft berries and tropicals

About the coffee:
This lot comes from the Codech coop in Huehuetenango, Guatemala, one of the first origins our owner, Matt, visited back 2017 while working for a different coffee company, before opening Moxie.
The Huehue terroir has always been one of our favorites. The bourbon (pronounced BORE-BONE) varietal lends itself to a well rounded body and the terroir produces gentle fruited notes with undertones of creamy 60% chocolate.

In particular, we love this coffee on espresso, as it pairs extremely well with milk-based drinks, like a cappuccino. In addition, we also find it to be a crowd-pleaser on drip with a variety of coffee drinking crowds.

It's a well balanced, versatile, high-quality lot from one of our favorite regions in Guatemala.
Varietal: Bourbon
Process: Washed
Producer: Juana Ramirez Gaspar
Notes: 60% Chocolate, Nougat, Soft Berries, Tropicals