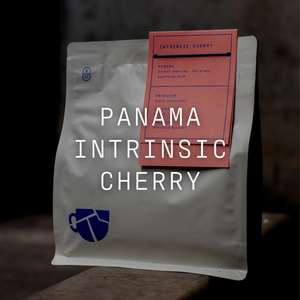 What we're tasting:
Stewed cherries, red grape, sparkling wine

About the coffee:
Denis Valenzuela is a member of Creativa Coffee District (CCD), a forward-looking specialty coffee processor in the Chiriquí province in Boquete, Panama.
By transforming a traditional wet mill into a modern world-class processing facility, CCD integrates art and specialty coffee in a unique and authentic space where artists are promoted to support new coffee production standards that guarantee higher incomes for producers and more sustainable ecological practices.
The 'intrinsic cherry' process involves fermenting the cherries in the same bags they come to the mill in. This allows the essence of each micro-lot to remain in the final cup.
The aerobic fermentation allows nature to impact the processing and brings out sparkling acidity and notes of stewed cherry.
Varietal: Catuai
Process: Intrinsic Cherry Natural
Producer: Denis Valenzuela
Notes: Stewed Cherries, Red Grape, Sparkling Wine