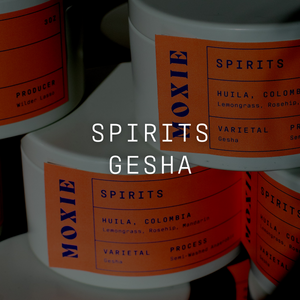 What we're tasting in Spirits:
Lemongrass, Rosehip, Mandarin

More About This Coffee:
Wilder Lasso is a veterinarian turned coffee producer, as of 2017. In a very short amount of time, his name has become synonymous with some of the finest specialty coffee in the world.
Wilder is at the forefront of coffee producers who are trying new varieties and fermentation processes, and considers the gesha varietal 'the crown jewel' of his farm.

Only the ripest gesha cherries are picked. They spend 200 hours in an anaerobic environment in their mucilage, which is why it's called semi-washed.
After the anaerobic fermentation finishes, the cherries are dried for about 2 weeks to achieve a certain moisture content before being milled. The result is a stunning, memorable coffee.
Varietal: Gesha
Process: 200-Hour Anaerobic Semi-Washed
Producer: Wilder Lasso
Notes: Lemongrass, Rosehip, Mandarin