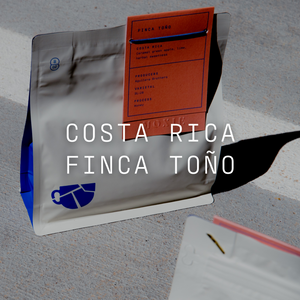 What we're tasting:
Caramel Green Apple, Lime, Herbal Sweetness

About the coffee:
This coffee comes to us through Selva, a new partnership for us. We cupped multiple lots from them, and this SL-28 stood out as unique, complex, and balanced.
We taste a rich caramel sweetness, green apple, and light herbal sweetness.
The Aguileras are a family of 12 brothers and sisters who are second-generation coffee producers in the West Valley. Their father was one of the first coffee growers in the area, and planted his farm 70 years ago.
Neighboring farmers warned him that coffee wouldn't grow there, but now the area is rich with coffee lands, and the quality from their family farm is exceptional.
Varietal: SL-28
Process: Semi-Washed (Honey)
Producer: Aguilera Brothers
Notes: Caramel Green Apple, Lime, Herbal Sweetness